Honestly,
Elizabeth Camden
's books are just all the ingredients I love. I truly think she is writing for me! She has a masters in history, so her research is unparalleled, she has an easy, accessible writing style, characters and dialogue that leap off the page and a keen sense of time and verisimilitude. But, I think what I find most impressive, is the ease in which she excavates snippets of history not usually explored onto which she shines the spotlight of her inimitable narrative style.
I also always identify with her heroines ( something that is hard to do in inspirational fiction ---even for an avid reader in the genre like myself). Her heroines are smart, resourceful career women who balk at limitations and want to make their marks on the world. Often in men's professions during times when women were to be angels of the hearth, her heroines are always just a few steps ahead of the world--- and the game. Fiercely independent, they are not easily won, unless they are able to fit the inevitable romance end of the plot into their working world.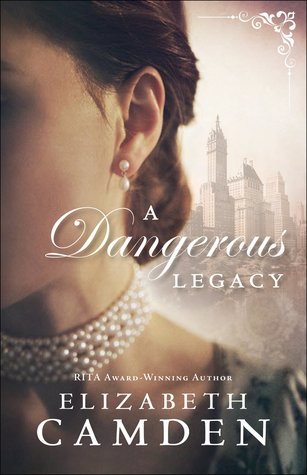 The overarching plot of this multi-layered story revolves around the Drake fortune and put me immediately in mind of the never-ending Jarndyce and Jarndyce case in Dickens'
Bleak House
. Siblings Nick and Lucy Drake are at the center of the case trying to find justice for their family and their late father. Beyond any monetary gain or inheritance, the resolution of the case will hopefully mean the end of their torment by a wealthy rich relative, Thomas Drake, who lives as lord of the manor in nearby Saratoga while the Drake siblings are hard workers scraping by in their Greenwich Village apartment. Court settlements, a lavish necklace and two brothers who fought over the invention of a brilliant valve during the Civil War times brushes Lucy and Nick's world with a burden to their father's memory as well as the social injustice they see around them. A plumber, Nick wants to use the ease in which he can work this portal to his family's inheritance to equip tenement houses with running water for a fraction of the cost of the high city fees.
Another layer of this surprisingly intricate plot is the journalistic meeting of Reuters Agency, where Lucy continually runs into aristocrat Colin Beckwith, heir to a crumbling 18th Century estate across the Atlantic, while working as a telegraph operator for the Associate Press. The history of morse code, telegraphy and homing pigeons is flourished here in exciting detail and I loved hearing about Colin and Lucy's world, the interception of Pacific telegraphs as well as reading cameos by Roosevelt and Taft.
An illegal wire tapped to her desk allows Lucy to transmit messages from her scheming uncle's lawyer and when she overhears a plot for murder, she runs to her uneasy ally ( and source of her burgeoning attraction), Colin, who uses his title and manners to expose the nefarious Drakes in Saratoga once and for all.
A Dangerous Legacy
was so much more than an historical novel: it was a treatise on the class system, a look at how entitlement to fortune and revenge can strip one of happiness and a compelling study of New York on the brink of greatness. Nick's work with valves for fresh water in tenement houses opens up a world underground and the labyrinth of the New York sewer system is painted with the same deft ease in which Camden worked with the Boston subway in
From This Moment
. Colin Beckwith's experiences as a journalist in the Boer War allow for the study of PTSD and a look into the primitive psychiatric methods such as shock therapy. A threat to Lucy is a gateway to a close interior look into mental asylums and the cruelty waged on patients sometimes only committed for incorrigibility.
To summarize the many interweaving plots as Colin and Lucy navigate the intricacies of the Drake fortune is difficult because Camden excels at being so (albeit accessibly) complex. I had trouble putting this book down during a research trip to Boston over the weekend ( books are companions when one is traveling and dining alone) and found myself blown away ( as per usual )with the seeming ease with which she creates conflicting worlds. There is a hunting weekend at a grand estate in upstate New York as well as parties and soirees that hang on Colin's coattails as a reminder of his past and the inheritance that binds him as tightly as the Drake fortune does Lucy and her brother. Manhattan becomes a character a colourful and nuanced as Washington in
Beyond all Dreams
and Boston in
From This Moment
as Camden uses her natural skill to paint a canvas brought brilliantly to life.
There is romance, yes, but also a hefty dose of suspense and an intricate mystery I was not anticipating. This is the best type of savoury read: relatable and fascinating characters, a peek through the curtain of the past, a dashing hero, a resourceful heroine, a race against time. Twists and turns and second guesses, dubious villains and beautiful heiresses. In short, a deliciously robust read.
Elizabeth Camden is an inspirational writer; but the religious themes in her book are just that---themes. She writes with a strict and genuine value system and her realistically fallible characters work between the lines of right and wrong often finding their consciences at odds with the world around them. She is never preachy and the faith elements are presented as sociocultural concept. I would recommend her highly to readers from or without a faith background.
buy this book now: