From the publisher:
When young widow Lydia Gale helps a French prisoner obtain parole, she never dreams she will see him again. But just as the London Season gets under way, the man presents himself in her parlor. While she should be focused on getting her headstrong younger sister prepared for her entree into Society, Lady Gale finds herself preoccupied with the mysterious Frenchman. Is he a spy or a suitor? Can she trust him? Or is she putting herself and her family in danger?
A Necessary Deception
brought to mind the following:
Little Dorrit, The Scarlet Pimpernel
and the Regency fare of Georgette Heyer.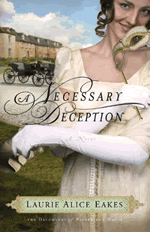 However, what promised to be a light, engaging and romantic Continental read dragged by lack of literary confidence, strained dialogue and historical facts that bludgeoned each page. I really wanted to like this book. I applaud Eakes for her taking the usual Regency mould of high society and the
ton
and stretching it to the European continent. Moreover, for inserting a dangerous world of French prison and the blinking nearness of espionage. In an age that loans itself to adventure, to danger and to the looming war, Eakes had a canvas set out for her. However, a lack of literary confidence ( as mentioned) failed to bring this romance to its peak point.
The French dialect was passable and the characterization typical of this sect of Christian romance and yet the spark that I look for when choosing my Christian historicals completed evaded this novel.
This is not for lack of literary competence; rather inexperience. I had the darndest time trying to weave my way into Lydia and Christien's world, into buying their chemistry and seeing through to their happy ending.
The story is infused with some awkward descriptions and moments which should have had more careful editing. For example: "a muscle bunched in her jaw" -- the blunt and harsh and crass delineation of lines like this immediately releases the reader from the intended spell of gentility and forces them to wonder how a muscle bunches at all... let alone in one's jaw....
This sounds nit picky, I know; but readers of this blog will remember that I have traversed through some exceptional Christian fare in the past while and it only makes books which aren't quite on the same level pale in comparison.
A Necessary Deception
is the first in a series and I do hope that Eakes will utilize her obvious passion for the era and her knack for historical research to write a crisper and more taut novel. With the help of some editing and her continual strive to find a unique and fresh perspective for a unique and fresh idea, we might have a promising author on our hands.
I have heard that Eakes'
Lady in the Mist
is a compelling read and I am not averse to trying it to see if I fare better in another world :)
My thanks to
Revell
for providing me with a review copy of this book.