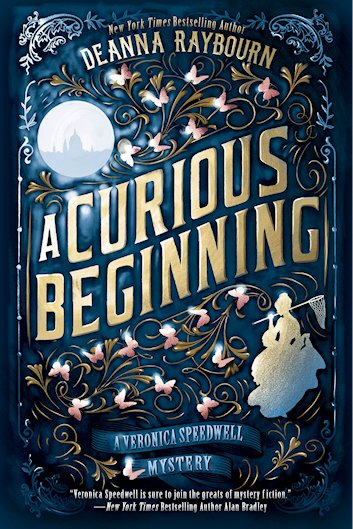 GUYS I LOVE DEANNA RAYBOURN!
Not only is she one of the best authors to follow on
social media
and
blog,
she is a prime example of how to connect and engage with one's readership.
Oh! And she writes the sexiest most intelligent books in the stratosphere.
( read
my Q and A
with Deanna here )
I fell head over heels over her Lady Julia books and then, most recently, with her triad of adorable adventure romances that recalled
Out of Africa
,
The Scarlet Pimpernel
and, well, everything good thing (my book gush of
City of Jasmine
is
here
) And now we have a new series to tempt readers of Julia and Brisbane who want something that stretches over books and allows us to settle in to a flint and tinder romance. Beginning with
A Curious Beginning
(releasing September)
Raybourn writes with a knowing wink and a smile and, here, she is back in Victorian London featuring the darling and bright Veronica Speedwell, a Victorian lady reminiscent of Amelia Peabody who loves to chase butterfly specimens across the exotic corners of several continents and can stay off any untoward advances with her hat pin. She keeps a small mouse named Chester tucked tightly to her as a mascot and she is brave and wonderful with an athletic form, a manner too bold for a spinster, and a life stretched with possibility when her guardian "aunt" passes away.
But there is intrigue! Mystery! Murder! Stolen identities! and even a Royal tinge of excitement and Veronica, alongside the growly and perfect Emerson-like Stoker (there's a lot of Elizabeth Peters in this series) into a whirlwind of corruption, danger and near death.
No one writes
quite
like Deanna Raybourn: pairing a whip-smart sense of humour, paragraphs and conversations replete with verisimilitude with sensuality and intelligence. Obviously, the sparks between our unlikely pair: Stoker the taxidermist with a high falutin' past and Veronica with the unintentional web of intrigue entrapping her corsets, bloomers and fashionable clothes, is palpable. But Raybourn leads them through several verbal waltzes, heated breaths and close quarters, without ever
quite
throwing them in each other's arms. This is what kept me reading at a harried pace through hilarious scenes with a travelling circus ( seems like Stoker is also an expert knife thrower, amongst other things) to the alleys of London and the docks and filmy murk of the Thames.
The connection between the two is something that will clutch at your heart and catch in your throat, but Raybourn knows how to play her cards and keep you wanting just a little more. This is chemistry and sexual tension at its finest: a marriage of minds, joining equals who keep the banter flying.
Hilarious and romantic and breathtaking at the same time.
An unconventional symphony that twists and sizzles in flying colours. I cannot WAIT for the next Veronica Speedwell.
My thanks to the publisher for an e-galley.