The Dovekeepers
by Alice Hoffman is a lyrical, if heart-breaking account of the mass suicide of over 960 jews when sieged by Roman rule.
It intertwines the lives of four very different women who work the dovecotes, tending to the best possibly opportunity for fertilization afforded them, as they shelter themselves from Romans and before their discovery comes to a head. Yael, Revka, Aziza and Shirah are at times mystical, frustrating, angry, lovely, romantic, violent and withdrawn, all well-realized within the curtained poetry of Hoffman's lyrical narrative.
The sheer amount of research that must have gone into this novel is mind-boggling. You escape inside the confines of this religiously and mystically shrouded world and thrive there as these survivors do, swinging up with their highs and tugged down by their lows. Sometimes their very lows: there is a lot of barbaric violence realistic to the time and the Empire.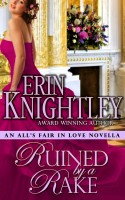 Ruined by a Rake:
When a fatherless, friendless boy is set before the gorgeous older granddaughter of an earl, what hope does he have? None. Other than to keep the girl well enough engaged that she can't possibly ignore him even if she wanted to."
Ruined by a Rake
is a spicy and sweet novella by talented wordsmith Erin Knightley. A friend recommended it as a free kindle download and I was besotted by the fun, spirited regency setting populated by spinster Eleanor and her dashing, rakish cousin Nick. Like the tenuous dance of pas de deux, the book is at its height in the carefully laid-out swordfights between the two, whose growing attraction is surmounted by their rapier wit intelligence, spars and clashes of steel. It was here the chemistry was most ripe: a careful reel of dance with perfect dialogue beats so that their story unfolded not unlike a well-played theatrical scene.
QUOTES:
"Old and dried up at that age of four and twenty, according to the ton. Which was ridiculous. She was perfectly moisturized."
"Rolling her eyes, she put a hand against his chest, blocking his advance. Good heavens, was he hiding a metal breastplate beneath his shirt? She gritted her teeth and blew out a breath. "
"He angled his head, his gaze far too observant for her peace of mind. "Shall we proceed directly to the joyful weeping, then? I do believe your eyes are dewy already."
"Independence is so much worse than scandal"
"Sophisticated is just another word for old and boring."
"Are there very many opportunities for mediocre female fencers?"
This is a surprisingly emotional ride, with layers dissonant and bleak, heartfelt and painfully resonant beyond the cupcake-coloured palette of the cover.
Cast completely with colourful eccentrics of the village fair type, Beth Moran's Nottinghamshire and the central campground of the novel's action –the Peace and Pigs" are prime for those who enjoy quirky portraits of British life. If this were the 19
th
century, think Lark Rise or Cranford. If this were a tea cozy mystery, think Midsomer. Marion's narrative is bleak and sonorous, but with such potential for life which she finds under the rocks and crags of Sherwood Forest. The dialogue is pitch perfect and there are outlandish laugh-out-loud instances with bike accidents, chickens and full-frontal nudity. Splashed with themes of faith, redemption and forgiveness, Marion's story is one of a young woman who must establish her own self worth before she is able to recognize what others—and the reader--- immediately see in her.
To add, Moran is a gorgeous writer: "On this static canvas a million tiny dramas, a billion scenes, played out unceasingly in every corner, under each rock and crevice. I have always been small, and here my smallness became a good thing. I am just one life in a world teeming with others. My problems, my past, the questions about my future, seemed so inconsequential --- insignificant – among all this doing. All this being."
"He leans back in his chair so the serving girl can set the last course in front of him, stewed late season berries bleeding into thick cream" (that's such an amazing word choice)
"Oh honey, Scarlett put down a bowl of bread and was next to her foster daughter in three strides. She wrapped herself around the Valerie-shell and buried her face in her hair. For a long, long time they stood there, Scarlett poured out love into that girl like sunshine onto the water."
" The thrill of being entirely surrounded by the forest—this forest wrapped itself around me. I could have been the only person alive. It was fabulous. The trees rustled and rasped with the wisdom of a thousand year and it seemed as if every other creature kept silence in honour of their age and beauty. I soared through dozens of miniature spotlights, where the sun's rays flickered through chinks in the verdant roof above my head, illuminating the insects in their dance shows, warming my skin with an ancient blessing."
Soft, pastel-printed, quirky and wistfully funny, Making Marion is soft-brushed with the first awkward hope at attraction and the slow creaking move toward friendship by a woman unsure of how to be in her own skin. Marion falls for a man with eyes like twilight in a forest. You will fall for him, too. But not before you fall for her.
I got Dovekeepers from the Library, Making Marion from Netgalley care of Lion Hudson and Ruined by a Rake I bought on amazon for kindle.