From the publisher:
For Nell Marchwold, bliss is seeing the transformation when someone gets a glimpse in the mirror while wearing one of her creations and feels beautiful. Nell has always strived to create hats that bring out a woman's best qualities. She knows she's fortunate to have landed a job as an apprentice designer at the prominent Oscar Fields Millinery in New York City. Yet when Nell's fresh designs begin to catch on, her boss holds her back from the limelight, claiming the stutter she's had since childhood reflects poorly on her and his salon.


But it seems Nell's gift won't be hidden by Oscar's efforts. Soon an up-and-coming fashion designer is seeking her out as a partner of his 1922 collection. The publicity leads to an opportunity for Nell to make hats in London for a royal wedding. There, she sees her childhood friend, Quentin, and an unexpected spark kindles between them. But thanks to her success, Oscar is determined to keep her. As her heart tugs in two directions, Nell must decide what she is willing to sacrifice for her dream, and what her dream truly is
The Hatmaker's Heart has some great things going for it.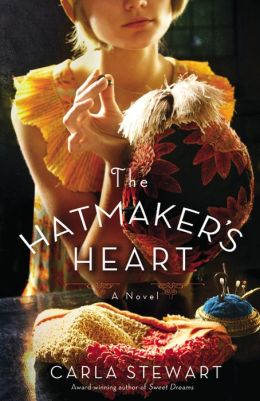 First and foremost, it is infused with the language of the era and the phrasing is pitch-perfect as is the dialogue .
Secondly, the research. OH MY GOODNESS! The research…
The amount of time that must have gone into shaping the world of a high-end millinery was a joy to behold. Ribbons and baubles, adornments and flourishing flounces and touches, I was engaged in Nell's world. Moreover, I liked her journey as a woman who was trying so hard to create her own hat line, and thus, stand up in a male-dominated workforce, despite the efforts of her employer, Oscar Fields, to keep her from making a separate name for herself.
There is a bit of a renaissance of 1920s fiction in the CBA so Stewart's unique slant is a welcome one. But what the novel excelled at in research and originality, it just missed the mark on in pacing and romance. Nell's romantic interest seems a bit of an after-thought and the romantic thread of the novel read like a string that was added in order to give an otherwise straight historical a romantic edge.
I preferred Nell's friendship with one of the other hat workers as a possible romantic slant.
The novel, for me, took quite a while to find its pace and footing and while always sprinkled with interesting historical tidbits, was challenged at holding my attention. In short, this was a read I found easy to put down.
Stewart is a competent storyteller and her passion for the time period and this esoteric hat research is pretty unparalleled.