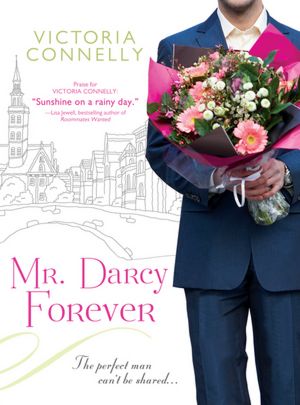 I am so thrilled that Victoria Connelly, author of Mr. Darcy Forever took the time to answer a few questions for me :)
Rachel:
First off, this is a statement rather than a question; but I LOVE this quote: "Why is life a constant disappointment?"
"Because we read fiction." Mia said
V.C.
- Glad you like it – it reflects how I feel sometimes!
Rachel:
Q.)I was really impressed with the narrative structure of the novel and how it seamlessly transitioned between three years back and forth: what inspired this creative direction and how did it influence your writing process?
V.C.
- I think writers should always push themselves to try different things. I've always wanted to write a dual narrative and this seemed like the book to try it with. I knew that something had come between these two sisters and that they would meet in Bath at the Jane Austen festival and I wanted to 'drip feed' their back story using flashbacks. I actually wrote it pretty much as it appears in the book and I found that the dual narrative really added pace to the story. It was challenging but really enjoyable.
Rachel:
Q.)Mia loves jogging and the fresh outdoors: Marianne Dashwood and Elizabeth Bennett also enjoyed exercise: do you think that this says something about their disregard of social precaution and a certain deviance to societal norms of their era?
V.C.
- I do. These were women who knew what they liked and weren't afraid to be themselves. I really admire them for that. They are strong and independent and didn't have time for people who hid behind social conventions.
Rachel:
Q.)There is obviously a plethora of Jane Austen references in the novel and throughout the Festival our heroines attend in Bath. Which is your personal favourite of Austen's work?
V.C.
- It's got to be Pride and Prejudice for its warmth, its wit and its love story. Not only does it have the best hero and heroine ever but there's a cast of fantastic 'love to hate' characters too. Mr Collins and Lady Catherine have got to be two of literature's greatest creations!
Rachel:
Q.)This is the second Jane Austen novel I have read this year dealing with mental disorder and Austen (the first being Compulsively Mr. Darcy). Sarah, who suffers from OCD, becomes somewhat of an Elinor counterpart: do you think Elinor showed some of these tendencies in Sense and Sensibility thus informing your decision?
V.C.
- I do. Elinor Dashwood was very in control of herself, her family and her environment and I wouldn't be a bit surprised if she was a list maker. I kept wondering what a modern-day Elinor would be like and I thought she might well suffer from OCD. I played around with the idea for a while and really thought it fitted her character.
Rachel
Q.) Mia and Sarah and Shelley love watching Jane Austen adaptations. Which is your personal favourite?
V.C.
- I think it has to be the 1995 BBC adaptation of Pride and Prejudice because Colin Firth and Jennifer Ehle give such wonderful performances as Mr Darcy and Elizabeth and there are some magical moments like Mr Darcy watching Elizabeth when she is at the piano; the moment he helps her into the carriage and their hands touch; and Elizabeth's mortification when she bumps into him at Pemberley when she thought he was away from home.
Rachel
Q.) Mia and Shelley both confess to liking the "bad boy" Willoughby despite the heartbreak he brings Marianne. Why do you think women keep falling for these charming rascals…. Even in Jane Austen where gentlemanly conduct and honour reigns supreme?
V.C.
- I think women will always be drawn to the bad boy – it's that element of danger that's so attractive. I also think that women believe that they'll be the ones to tame them.
Rachel:
Q.)This is not your first Jane Austen-inspired tale and you are obviously very comfortable in jubilantly painting women and men inspired by Austen in the contemporary world. Is there another author you are equally as passionate about?
V.C.
HE Bates is my favourite author of all time. I adore The Darling Buds of May quintet and happily quote him in my everyday life. He creates characters that are so real and his style of writing is warm and funny. I've just named three hens after his characters: Mariette, Primrose and Florence!
You can find Mr. Darcy Forever and other Austen-esque yarns by Victoria Connelly on amazon
Visit Victoria Connelly on the web to read her blog and learn about her other novels
My thanks to Sourcebooks for the review copy and to Victoria Connelly for stopping by the blog