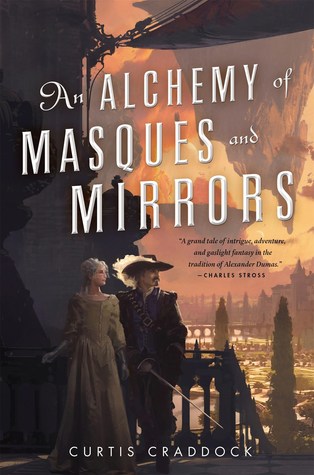 Want some gushing?
Here is some gushing
First,
An Alchemy of Masques and Mirrors
---- GUYS ! DO YOU WANT steampunk, hot air balloons, a whiff of romance and musketeers in an alternative Parisienne world? YES! YES YOU DO!
of course you do!
Then, have you come to the right party:
A wildly entertaining romantic romp in the tradition of Dumas and Sebastien de Castell and Mary Robinette Kowal. In a steampunky alternative Paris, laced with political and magical intrigue, power dynamics and and murder, Princess Isabelle and her musketeer protector Jean-Claude are thrown into a world of turmoil, attempted assassination and intrigue. I cannot properly convey how compelling the hook of this tale was to me nor how pleased I was with its exposition. Fun adventure matinee-style threaded in a fresh and compulsively readable voice that paints a unique and daring world with aplomb.
This world is so wonderfully realized and the dynamic between the two leads is so snap-crackle-pop with chemistry and the whole "but social divide and bodyguard and stuff" thing and I just love things that are fresh and imaginative. So TWO RACHEL THUMBS UP
okay! and then you want, of course, a slick and sophisticated slow-burning romance set in Edwardian Cornwall featuring a thief -turned- librarian and a stammering author with royal connections who may hold secrets to the axis retaliation in the looming war? RIGHT? yes.
So then we have
A Name Unknown
which features not only some of Rachel's favourite tropes ( tortured reclusive misunderstood stammering author, two lost souls who connect through words and leave letters to each other!!!!!!!!!!!!!!!!!!!!!!!!!!!!!!!!!!! ) but also possibly my favourite hero of 2017. Peter Holstein is certified Rachel Catnip! I love that he is just too lovely and tweed-clad for the real world --- and the stammer in his voice is ironed out in his writing. There is a lovely Barney Snaith type twist to this set amidst a bubbling world on the brink of war against the lush tapestry of Cornwall. Rosemary Gresham, our intrepid heroine, was a tad more difficult for me to fall for --- but I think that was a conscious decision on the part of the author to show how she ---due to necessity and complicated past-- wants to keep the world at bay. And it is all "a rose by any other name.." because names and titles and connections and noms de plume are a huge motif here.
But mostly, Peter. I am in this for Peter bless his tweed and his accent and his spectacles and his awkward way with the world and you should be in it for Peter, too.
with thanks to Netgalley for these titles