So you all know from my latest post how to buy
The Bachelor Girl's Guide to Murder
at all major retail outlets online.
If you are in America: Barnes and Noble has extended their promotion of
Bachelor Girl's Guide to Murder
for a few more weeks. So look for it on new release displays and if you feel so led, snap a picture....
CANADIANS! Guess what? Soon, soon, soon you will be able to find Jem and Merinda in the Mystery section of your Chapters and Indigo. Until then, you can order online or from the kiosk in-store ( even pre-order
A Lesson in Love and Murder
while you are at it)
If you are in St Catharine's author Sandra Orchard will be signing copies of
A Fool and His Monet
and I will be signing copies of
Bachelor Girl's Guide to Murder
this Saturday at Heritage bookstore
!
I was so excited to meet part of the Harvest House publishing team last night here in Toronto for dinner! Even though my publisher is far away in Oregon, I so enjoy being a part of the family there.
We are having an amazing amazing awesome and phenomenal GIVEAWAY thanks to our friends at Litfuse! Check out the promo landing site
here
This Murder Mystery Prize Pack was handpicked to reflect some of Jem and Merinda's favourite things: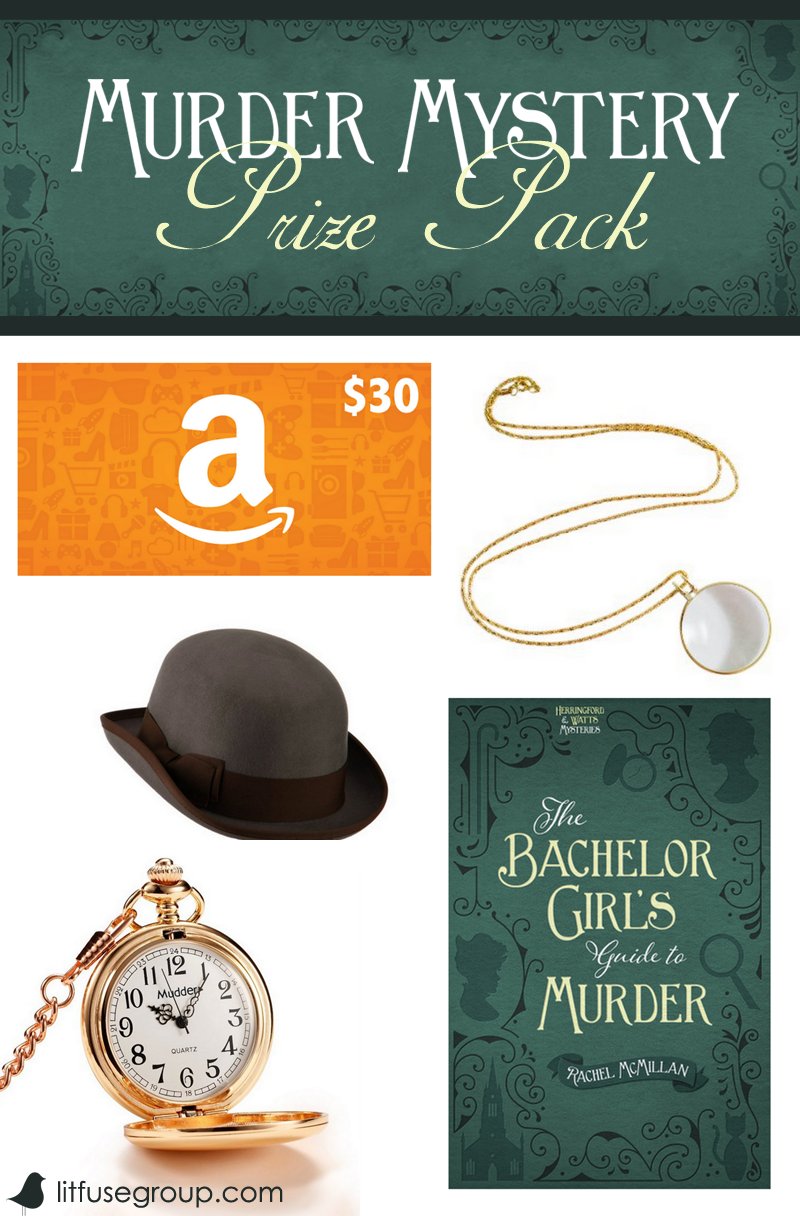 In addition to this awesome giveaway, please come to our public (meaning EVERYONE is invited) facebook party which will give you an opportunity to talk to ME and learn about my BOOKS and Toronto and DEDUCTION but also give you the opportunity to win more prizes such as gift certificates and copies of
Bachelor Girl's Guide to Murder
.
Now, friends, everything you have (n)ever wanted to know about Jem and Merinda and Jasper and Ray and me are at your disposal. Please come! You can RSVP here
https://www.facebook.com/events/1601750113480451/
Here's a blog I did for Lifeway
on the Elgin and Winter Garden theatres ( a big part of Toronto history and a very special place for Jem and Ray)
I wrote about
the conditions of the Ward for the Harvest House website
And guest posts and interviews galore:
At Litfuse
at Reading is My Super Power
At Lena Nelson Dooley's blog
A peek at my writing desk at Inspired by Love and Fiction
At Kelly Bridgewater's blog
( a Fictional Hogtown Herald article care of Ray!)