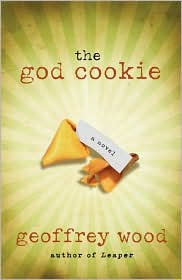 rating:****
publisher: WaterBrook
Geoffrey "Leaper" Wood has more than exceeded my expectations with his jaw-droppingly well-written sophomore book.
In fact,
The God Cookie
should propel Wood into the large readership he deserves. I knew that the Christian reading populus had something special on their hands when we were gifted with
Leaper's
sparkly dialogue, fly-highing premise and thunderbolt of fresh creativity....and now this! All of the ingredients which made
Leaper
so giddily defy the norms of the genre have been healthily dolloped into the
God Cookie....
tenfold.
The God Cookie
is not your grandma's yellowed Grace Livingston Hill novel; nor is it the broadly coloured collection of riff raf circa 1970 with a cover seemingly stolen from the movie poster of
Funny Girl
you would find in a church rummage sale. Instead, the
God Cookie
belongs in the Christian literary elite. Geoffrey Wood, I hope, has a long career in the industry because he will not conform. Take his gutsy plot---young barista who has copious world views on golfing and salt shakers but cannot wrap his head around the metaphysical, follows a holy trail spun from a vague interpretation of a fortune cookie he interprets as God's divine will. Through a caffeine-induced high and not withstanding the mockery of his coffee shop pals and the greater world's cocking of a sceptical
is he for real
? eyebrow, John Parrish is ready to listen. He scrapes by on a thread: following blindly a commandment to "take the corner."
"The Corner" holsters a discombobulated melange of bench-sitters---some seemingly waiting for a bus (or
Godot
?) which might never come. This mix leads John and his new pal Audra along a trail of redemption, life lessons and gritty, every-day Grace.
What I like most about Wood is that he meets everyone where they are at. Not all of the characters infiltrating this Christian novel are believers and, let's face it, by the end of the novel, there will be no mass-conversion and looping of arms in joyful song. There are no super-powered (well, there was
one
literally in
Leaper....
) molds of perfect spirtuality. John continually questions God in the way he questions his underworked employees Mason and Duncan about where the duct tape went.
Wood is a dynamite story teller who is funny, saucy, conversational and invitational: you feel like you are being invited as a privileged fly- on-the- wall witness to something outstanding. The realism surging each page makes this experience plausible and keeps the pages flipping.
Wood is heavy on dialogue ( especially in the first third of the novel) but he has a knack for it and each character has such a distinctive voice that were you to detract any notation of speaker, I have a feeling I would still be able to figure it out. This is a rare gift indeed. One, I think, which might derive from his extensive background in theatre.
As a coffee lover, I enjoyed long, frothy odes to the beverage as well as the tirades on the monotony of tea ( the anti-coffee).
As for the structure of the novel, it is almost genius: life changing, climactic events of pseudo-Biblical proportion unfold in the course of a week. In this span, numerous people ( making a big web, say), are changed and interconnected.
Poetry is apparently ( according to my grade ten teacher, at least) "the perfect words in the perfect order" and our friend Wood is apparently a poet. Example: a scene thawing a frigid urban February:
...blue touched blue and they became background for streaks and wisps of cloud. Sunlight, rays of it, gave a brightness like spring, a direct and golden-yellow brightness unlike the trapped, refracted glow of winter's day, and to that homogeneous cityscape that lay so inert and wide and flat, just a few spring rays of sunshine gave a sudden depth of dimension to everything. Individual things came alive, as if each stood brightly before you, each with its own story
.
There are also whispers of unpreachy symbolism and comparison prompting the thinking reader to stop and pause. And, everything has meaning:
Fritter Johns
: the eponymous coffee shop derived ( very inadvertently ) from
Robin Hood
(a book John and his rag tag trio can "get behind") and John Parrish's name: which boasts a religiousity lending well to a discourse on the "everyman" or "parish":while still putting us in mind of one of Jesus' ultimate followers.
Geoff Wood went out on a limb ( again ) and succeeded. The vulnerability of his characters seems almost ironic when housed in such a stern, confident and strong novel. I like guts in my Christian fiction. This guy has guts.
Most importantly, however, beyond the pitch-perfect phrasing, the well-executed tale and the characters who spark and fly, is the message encapsulated in each page. A message of: 'we're not there yet, how can we possibly be? but, let's keep trying and searching; learning and listening, following redemptive strands that might lead to nowhere, rejoicing in hope and hats and snow....'
A cop tells John that he expects God on earth would find out the lonely places...rather than the over-crowded congregations. Wood reminds us that God meets us where we are at, if we give a little: no matter how flawed.....
I believe, most heartily, that He has found His way between the covers of a Geoffrey Wood novel and it would be an absolute shame to miss what He has to say.
More Geoffrey Wood: read interview here